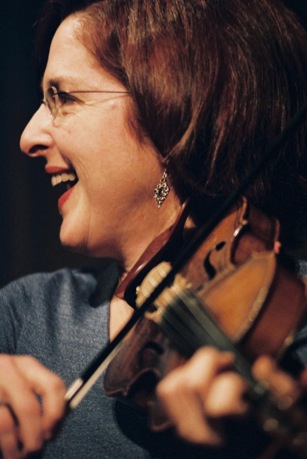 Cookie (Marlene) Segelstein received a Bachelor's Degree in Music from the University of Missouri in 1981, and a Master's Degree in Viola from Yale University in 1984 where she studied with Raphael Hillyer (founding member of the Julliard String Quartet) and the late Jesse Levine. She played under the great Leonard Bernstein and Seiji Ozawa at Tanglewood, and studied chamber music with Eugene Lehner of the Kolisch Quartet. In 1984, Cookie joined the
New Haven Symphony
where she became Assistant Principal Violist in 1991, a position she held until moving to California in 2010. In 2009 the New Haven Symphony recorded William Walton's Symphony No. 1 (Nimbus Records) and was seen in the Robert De Niro movie, "Everybody's Fine". In 1985, she joined
Orchestra New England,
a chamber orchestra specializing in the music of Charles Ives with whom she recorded The Orchestral Music of Charles Ives (Koch, 3-7025-2 H1). She became Principal Violist with O.N.E . in 1991, and has performed many solo works with them, including the Brandenburg Concertos #3 and #6, "Elegy" by Gustav Holst. In the spring of 2010, she performed a piece commissioned for her by the orchestra and written by composer Mark Kuss, "Viola Concertino". Cookie has toured the world with her trio
Veretski Pass
that specializes in the 19th and 20th Century Jewish instrumental folk music of the Carpathian mountains. They played to a sold out audience at the Concertgebouw in Amsterdam, and regularly tour Germany, Austria and Switzerland, playing concerts and teaching workshops. She recorded the violin music for the Jewish wedding episode of HBO's "Sex and the City", has recorded many CD's as an expert on Jewish violin style, and written many music books of historical transcriptions. On the board of the San Francisco chapter of American String Teachers Association, and a member of
MTAC
(Music Teacher's Association of California), Cookie teaches violin and viola students of all ages and levels in both folk and Classical styles. With the guiding principal that a combination of ear training, sight reading skills and good position makes a well rounded musician, Cookie incorporates all of these elements into lessons. Her lessons stress the importance of full musicianship; a musician must be able to play musically at first reading of a sheet of music, with full expression blooming as the piece becomes more familiar. Combining kinesthetically based teaching with more traditional methods, and adapting to each student's individual learning styles, Cookie's students range from absolute beginner to performing professional.